About Us: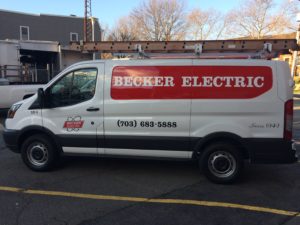 We are an Electrical Contractor providing service to both residential and commercial customers since 1949. Our service operations have earned and maintain a high rating in the Washington Checkbook, Yelp and Angie's List for both quality and price. Our loyal customer's keep this end of our business quite busy but we are told we are worth the wait. Our construction operations address a wide range of projects from specification work to design build; we have wired numerous churches and commercial/industrial complexes. Our quality workmanship has earned the repeated calls by those responsible for maintaining George Washington's Mount Vernon since the 1950's. We are a family owned business with a reputation among our vendors and suppliers as a prompt paying contractor.
FAQ:
What services do you offer?
Here are just a few of the many services we offer at Becker Electric:
Additional Lighting or Outlets
Service Changes and Panel Upgrades
Bathroom fans and Troubleshooting
Power Surge & Lighting Protection
Appliance Hookups
Code & Home Inspection Corrections
Security Lighting
And much much more!
What are your hours of operation?
Monday through Friday from 7:30am to 4:30pm
Where do you serve?
Currently, we serve the following localities –  Alexandria, Fairfax County, Arlington, and portions of the District of Columbia.